ASEAN M&E Show 2014 ASEAN Biggest M&E Show
SOUTHEAST ASIA'S LEADING INDUSTRY GATHERING FOR MECHANICAL, ELECTRICAL & ENGINEERING PROFESSIONALS


Kuala Lumpur is set to host the sixth ASEAN M&E SHOW 2016 - The ASEAN's PREMIER MECHANICAL & ELECTRICAL ENGINEERING SHOW from 23 - 25 May 2016. This event meets the needs of developers, M&E engineers / consultants, architects, building / facility managers, electrical / building contractors, air-con refrigeration professionals, energy producers, retailers and distributors all under-one-roof.

ASEAN M&E 2016 will provide you with the solutions you need. Government official, regulators, manufacturers, industrial users, consultant and industry experts make it their business to attend this biennial event to source for new technology and supplies.

-It's the perfect venue to introduce new products, generate sales leads, build sales networks, enhance brand image and touch base with key customers.

-Over 10,000 trade buyers and industry professionals are expected to attend this event with 350 exhibitors from 25 countries.

-Make positive deals: Meet new business contacts and exchange ideas with leading industry experts.


Show Highlight
-Over 350 participating companies from 25 countries showcasing new technologies and innovation. Direct access to quality exhibitors from
across the sector.

-Come and see International Pavilions from Singapore, Germany,Taiwan, Thailand, China, Korea and recognised association pavilions.

-ASEAN M&E Forums – The ASEAN M&E Forums brought to you by Institution of Engineers Malaysia (IEM) and the forums are CPD
accredited. Register now at www.ASEANmneForums.com.

-ASHRAE Malaysia's Conference – Themed "Built Environment for Sustainability: a Holistic Approach" addresses current and future facts in the industry. Organised by ASHRAE Malaysia Chapter.
For more information visit www.ashrae.org.my

-Technology Symposium – Consultation and solutions for your technical needs, to absorb in-depth knowledge from industry experts. Best of all, attendance is FREE. Seats are limited. First come first serve.

-Endless networking and business opportunities.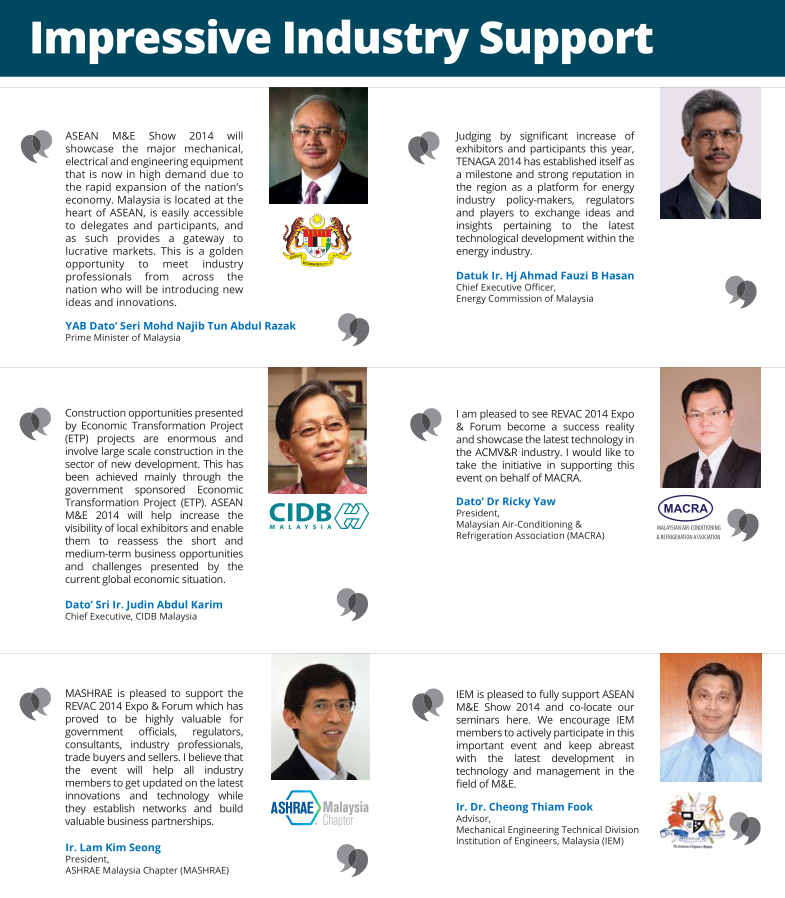 Source:aseanmne.com
PWTC: In conjunction with this milestone event for digital entrepreneurship for the nation, the Prime Minister of Malaysia, YAB Dato' Sri Mohd...
Read more »
International Construction Week (ICW) and Ecobuild Southeast Asia take the lead gathering Malaysia's construction leaders in discussions on the...
Read more »